About Aqua Teen Hunger Force

Aqua Teen Hunger Force (also known under many other alternate titles) is an animated television series currently airing on Cartoon Network's late-night block, Adult Swim. It is about three anthropomorphic and ill-mannered food items known as the Aqua Teens and their quick tempered neighbor, Carl, having crazy adventures in New Jersey.
Recent Episode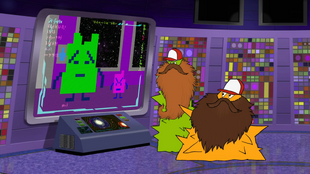 Spacecadeuce is the tenth and final episode of Season 10, and the 130th episode overall. It aired on October 20, 2013.