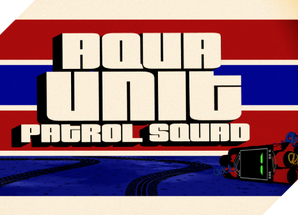 Aqua Unit Patrol Squad 1 was the second title of the eighth season of the American animated adult swim cartoon series, Aqua Teen Hunger Force, in which the original concept of the Aqua Teens being detectives is revisited (this concept was abandoned after episode three). Along with the characters moving to Seattle, Dr. Weird and Steve come back for one episode, and a new theme song by Josh Homme and Alain Johannes. Aqua Unit Patrol Squad 1 premiered on May 8th, 2011 and ended airing on July 24, 2011.
According to the DVD Commentary for "Super Trivia," Dave Willis had an idea for a short film entitled, "Ultimate Golden Trivia Unit Patrol Squad."
Original Concept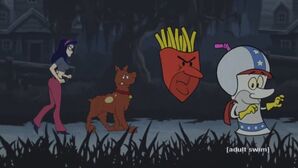 The original versions of the team appeared in the hundredth episode, One Hundred, when the 100 Monster sucked them into a universe where they were "re-tooled" as Aqua Unit Patrol Squad, and a parody of Scooby-Doo. Each of them were given a new name as well. Master Shake was renamed "Captain Pistachio", Frylock was renamed "Fry-Boy", and Meatwad was renamed "Meaty-Meaty Moo". A fourth member was also added to the team, Tabitha, who somehow became a member since she "came with the van", and Shake claims that she was his girlfriend (she is a parody of Velma Dinkley from Scooby-Doo.) At the end of the episode, the 100 Monster kidnaps her, takes her into the woods, and rapes her and beheads her ("possibly not even in that order").
Episodes
| # | # | Title | Airdate |
| --- | --- | --- | --- |
| 101 | 1 | Allen Part 1 | May 8, 2011 |
| 102 | 2 | Allen Part 2 | May 15, 2011 |
| 103 | 3 | Intervention | May 22, 2011 |
| 104 | 4 | Freedom Cobra | June 5, 2011 |
| 105 | 5 | The Creditor | June 12, 2011 |
| 106 | 6 | Vampirus | June 19, 2011 |
| 107 | 7 | Wi-tri | June 26, 2011 |
| 108 | 8 | Jumpy George | July 10, 2011 |
| 109 | 9 | Lasagna | July 17, 2011 |
| 110 | 10 | Last Dance for Napkin Lad | July 24, 2011 |
External Links