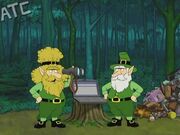 The Leprechauns are a group of leprechauns who plan to steal Dr. Weird's RainbowMaker 400 and use to mug people, mainly of their shoes. The leprechauns consist of three, Flargon, Dingle and Merle. They use a laptop in a forest to send out false emails that gold is given in a rainbow. However, the rainbow pulls the person back into the forest where they'll steal any valuables. The Aqua Teens foil their plans when they drive them off after they steal Carl's gold chain.
The Leprechauns
Flargon

Voiced by: Scott Hilley
Flargon is the mastermind behind the leprechauns. He's the one who comes up with the plan to steal Dr. Weird's RainbowMaker, take a laptop to send out false emails, lure people into it and rob them of their valuables.
Dingle

Voiced by: Scott Hilley[1]
Dingle is just the leprechaun that has the RainbowMaker duty and shouts "FEET!!" whenever he turns it on. No other words besides "no feet" has been said.
Merle

Voiced by: Andy Merrill
Merle is one of the leprechauns in guard of watching what happens and is usually looking through a pair of binoculars. He's one of the leprechauns, despite being half-Korean and from Rhode Island. He's shown to be the most intelligent out of the three. He is also the only human.
Appearances
References
Community content is available under
CC-BY-SA
unless otherwise noted.