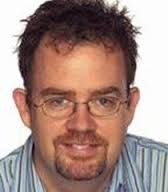 Matt Harrigan is an American television writer, producer, and voice actor who is best known for his work on shows like the Late Show with David Letterman and Celebrity Death Match. He has also worked as a producer on several shows for Williams Street, and was the founder of the short lived studio Williams Street West. He also wrote numerous episodes of the series, Space Ghost Coast to Coast (including the entirety of the eighth season). His latest project is the animated television series, Assy McGee, which premiered in November 2006. In addition, he performs the voice of the regular character, Liquor, on 12 oz. Mouse, and the Major Shake Replicant on two episodes of Aqua Teen Hunger Force and did the voice of Linda in the Aqua Teen Hunger Force Colon Movie Film for Theaters.
Voice Acting on ATHF
His work on Aqua Teen Hunger Force includes:
Community content is available under
CC-BY-SA
unless otherwise noted.