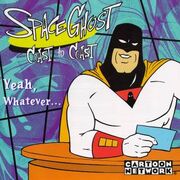 Space Ghost Coast to Coast
 is an American adult animated parody talk show, created by Mike Lazzo and hosted by the 1960s Hanna-Barbera cartoon character Space Ghost. Though the original 1960s series aired as a standard Hanna-Barbera Saturday-morning superhero cartoon, 
Space Ghost Coast to Coast
 was a reboot of the series intended for adults, reinterpreted as a surreal spoof talk show and produced using the original artwork. The first two seasons were presented as a serious talk show with subdued jokes, while the later seasons relied more on surrealism, non-sequiturs, and parodies.
Space Ghost Coast to Coast is considered to be the first fully produced Cartoon Network original series. It premiered on April 15, 1994, and originally ended on December 17, 1999. The series was revived on May 7, 2001, and on September 2, 2001 the series moved from Cartoon Network to the then-newly formed late programming block Adult Swim, where new episodes premiered until April 12, 2004. Two final seasons were released on GameTap from 2006 to 2008. There were a total of 108 episodes, over the course of 11 seasons.
Community content is available under
CC-BY-SA
unless otherwise noted.