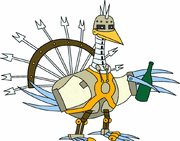 Turkatron (voiced by Matt Maiellaro) is a robotic turkey featured in the episode "The Dressing" who appeared a week after Thanksgiving. He insists that he came from the year 9595 (in a reference to the 1969 song "In the Year 2525") to save the great, great, great, great grandfather of Goblox, the future leader of the turkey rebellion against the Master Chickens.
Turkatron loves taco pies, wine, and other alcohol. He carries laser-guided socks, among other things, in a plastic garbage bag. When intoxicated, he may go crazy, even going so far as to think curtains are time rifts.
It is eventually revealed that Turkatron is actually one of 5,000 malfunctioning "Hustlin' Tom Turkey" toys. The first one that arrived, Turkatron, was at first thought to have been the Cybernetic Ghost of Christmas Past from the Future, but has a different appearance and clearer voice than the Ghost. The exact nature of the relationship with the Cybernetic Ghost has not yet been explained.
He returns in the video game, being a common enemy starting with level 3. He fires lasers at the player, and attacks physically if the player is close enough.
Appearances