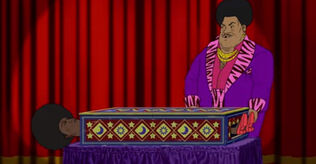 Unbelievable Ron is a magician.
In Merlo Sauvignon Blanco, Merlo hypnotizes Shake to kill Unbelievable Ron with an ax but failed and was teleported back to his home.
In The Greatest Story Ever Told, Frylock and Carl takes Lambert to see the magic show. During the performance, he accidentally sawed a woman in half and turns his witnesses, including himself, into birds when the cops arrive to arrest Frylock and Carl.
Community content is available under
CC-BY-SA
unless otherwise noted.